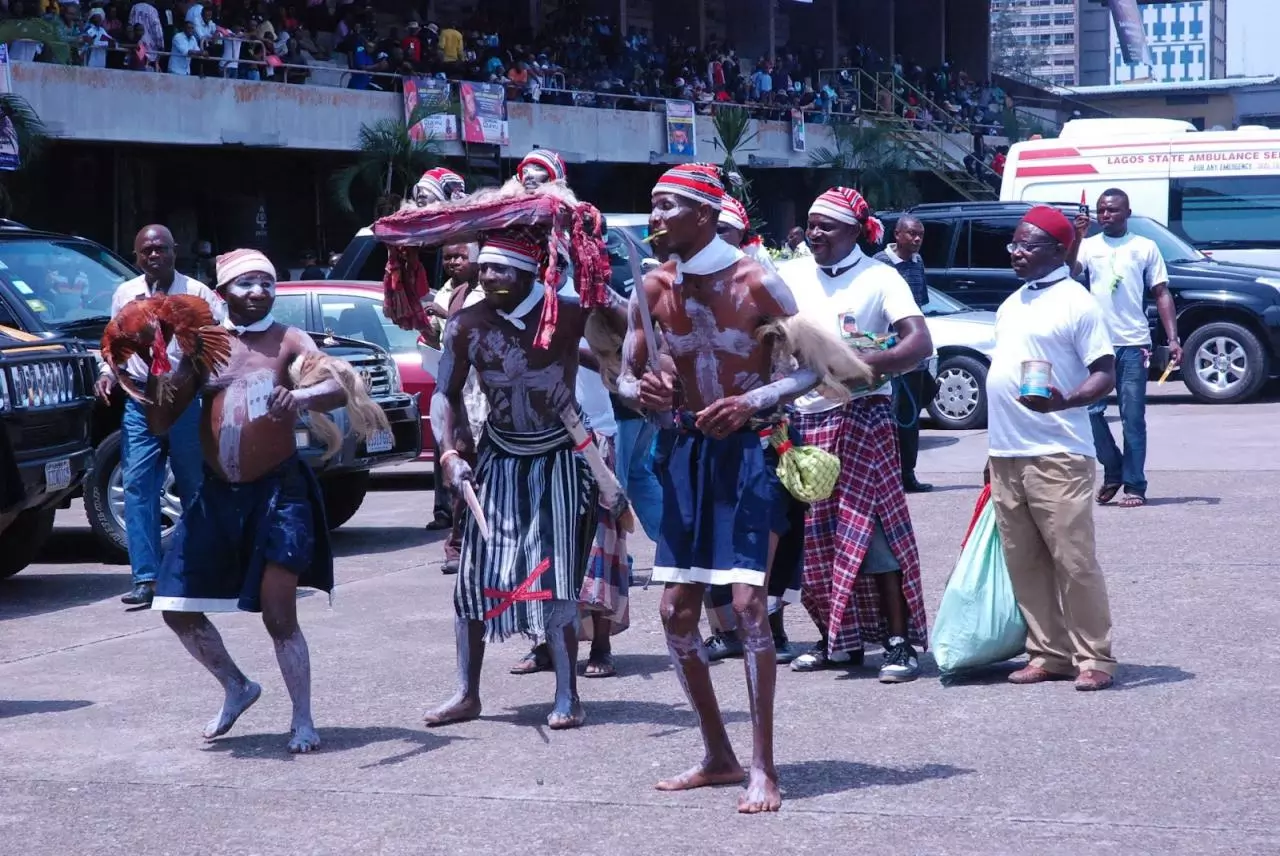 Top 10 most popular cultural dance in Igbo land (List of Igbo Traditional Songs)
---
Igbo Cultural Dance is one of the best way  of self expression in the Igbo Land . The eastern people of Nigeria practice their cultural dances in order to express moods such as to celebrate, commemorate or even to get ready  for popular rituals. One of the most influential and largest as well as the most popular ethnic groups in Nigeria is the Igbo tribe of the east part. The Igbo people took residence in southeastern and south-central of Nigeria. The culture of the Igbo people involves their total way of life and by speaking about the culture of a tribe, it includes their interest is in the art, food, music, language, and even the cultural dance forms.  Historic and traditional dance are traced back to hundreds and  thousands of years. Nigeria as a big country happens to  have various types of folk and tribal dances in nations across the country. The eastern region, which consist mostly of the Igbo tribe, have a list of traditional dances performed as a form of self and emotional expression, social interaction, or exercise and these dances are often used to convey ideas or tell a true life story.
So let's delve  into the list of Igbo cultural dance and below are the Top 10 most popular traditional dance in Igbo land
1. Atilogwu dance
Atilogwu as it is popularly known, is a traditionally spirited dance usually performed by the youths from the Igbo cultural group of Nigeria. Atilogwu has attained  a very high level of entertaining it's listeners during this year's. Atilogwu is an Igbo dance that emphasizes on vigorous body movement and sometimes includes acrobatics flips, high jumps and so on.
2. Ogene dance
Ogene dance popularly known as Egwu ogene, is a well known and respected traditional energy dance from the northern part of Igbo land mostly performed in Enugu and Anambra. Although know as Egwu ogene (ogene dance). Ogene happens not to be the only musical instrument that makes the melody that the ogene dancers adhere to, more instruments that gives ogene music its melodious tone includes: Ogene, Oja or Opi, Igba, Abia, Oyo or Ichaka, Udu and most times,  Ekwe.
3. Ikpirikpi ogu dance (War Dance)
Ikpirikpi ogu dance is an igbo war dance performed in several parts of Eastern Nigeria especially the Ohafia part of the region. The dance which originated from Abia state is performed by a group of giant men in commemoration of their strength in fighting and winning wars in the past.
4. Nkwa umuagbogho
Ngwa umuagbogho best interpreted as the dance of the maidens  is a female dance only performed by young maidens from the eastern part of Nigeria.  However,  this maiden dance has many names according to their respective community, Nkwa umuagbogho is recognized in Ebonyi state where the maiden dance first formed the name Ngwa umuagbogho dance group.
5. Egedege dance
Egedege dance is an Igbo cultural dance style that started in the southeastern part of Nigeria. Egedege dance style is as old as many other dance in Igbo land but became very popular by a legend whose name was, Queen Theresa Onuorah of Unubi in Anambra State.
6. Aku na eche enyi (Igba ndi Eze)
Aku na eche enyi, popularly known as  Igba ndi Eze is mostly performed in special events to welcome guests who are considered to be special such as,  kings, titled men and women into special occasions.
7. Mmanuwu dance
Mmanwu Dance is also known as Igbo Masquerade Dance, The Igbo masquerade is a wonderful dancer. One of the mysterious aspects of the masquerade is their ability to dance with so much energy for long periods of time.  Egwu mmanwu as they are called in Igboland are performed by secret societies and represent ancestral spirits as well as deities. During the festivals, they provide entertainment as well as protection to those in attendance. Watching an Igbo masquerade dance is one of the most interesting and entertaining things anyone can see.
8. Adamma dance
Adamma is a contemporary maiden spirit mask that originates from Enugu state, southeastern Nigeria. The mask is performed by men only and is accompanied by music that the masker dances to. Unlike other Igbo masks Adamma mask does not have any spiritual value behind it.
9. Omuru-onwa
This dance is believed to be strictly reserved for and performed by married women or much older women for some cultural specified reasons. The dance generally involves responsive movement of the body in a rhythmic fashion to hip-swinging music and the women are attired in uniformed wear, which involves a blouse, mostly white in colour, double wrapper tied after each other, with one reaching or covering the entire leg, while the other hangs below the knee, in a "three-quarter" way. There is always an "Ichafu" (head tie, gear) to complement the dressing.
10. Oge/Ese dance
Oge dance alternatively called Ese in some part of igbo land has attained popularity but yet not well know dance. Oge dance is mostly performed my elderly men to celebrate the life of a man who died at a very old age or a man presumed to have accomplished a lot throughout his life time.  Instruments that gives Oge its melodious tone here includes xylophones (Ikpa) Ekwe slit-drums and Abia cylinder drum.