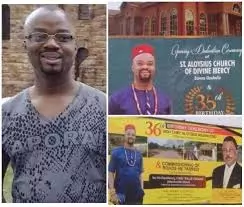 Bishop Aloysius Ikegwuonu Ozubulu Biography, Net worth, Age, Family, Money house, Wife & Family Contact Details
Chief Aloysius Nnamdi Ikegwuonu  popularly known as (Ebubechukwuzo, Akuchinyere Nwata 1, Uzochukwu kwalu 1 of Umueje, The Bishop) originated from Ofufe Amakwa Ozubulu in Ekwusigo Local Government Area of Anambra State, Nigeria.
Bishop was born in 1981 to the family of Chief Ikegwuonu of Amakwa Ozubulu.
According to research, there was a proof that Bishop Aloysius grew up from a poor background  and reportedly helped his mother who sold at Orie Akpu market, Off Ugwu Orie Bus Stop of Amakwa Ozubulu.
'Aloyee' as he was locally called by his close mates in his early stage of life , arrived at limelight in 1999 when he emerged as the senior prefect of Comprehensive Secondary School, C.S.S., (formerly College of Basic Studies, C.B.S.) Egbema Ozubulu; a school created by Reverend Father Nwabaju Izuchi, a United States based Catholic priest.
Bishop Aloysius began an immediate move after his May/June WASSCE examination in the year 2000, he migrated to South Africa on March 2001 where he became a multi millionaire within his first four months of his stay in SA. Several reports asserted that he was into hard drugs.
He returned to Ozubulu nine months later (December 2001) and lavished his money from one place to another  which reportedly confused many up growing youths, especially those who were his classmates to go with him to South Africa. Bishop Aloysius became 36 years old on May 1st, 2017.
Want to Know More About Bishop Aloysius of Ozubulu? Watch the video below :